Posted on July 30, 2013 in Uncategorized
Last Wednesday, the House voted on an amendment proposed by Rep. Justin Amash of Michigan, that would have effectively ended the warrantless collection of phone metadata the NSA claims is allowed under the PATRIOT Act. The amendment lost by a narrow 12 vote margin, 205-217, and blurred party lines. This may seem like a defeat, but 205 is a much larger number than anyone was expecting. 134 Republicans voted 'no' and 94 voted 'yes'. The Democrats had a slightly stronger showing, with only 83 voting 'no' and 111 voting yes. This is in sharp contrast to past votes relating to unconstitutional surveillance, like the 2011 vote to extend the PATRIOT Act, which passed 250-153 and which only 31 Republicans voted against.
We got there thanks to all of you, who volunteered your time to clog your Representatives' phone lines just before the vote and went online to make sure others did as well. Because of our work, restoring the Fourth Amendment is at the forefront of the national conversation. With a new poll showing that 56 percent of Americans think the government has overstepped its bounds in collecting personal data, and intense pressure on Washington from citizens of all political persuasions to rein in its surveillance programs, it may only be a matter of time until Congress successfully votes to put a halt on the NSA's surveillance activities.
Now what can we do? We can keep up the pressure on the government. We can make sure this issue doesn't fall out of the public view. Many movements succeed in bringing a lot of attention to their cause, but only those that maintain it are ultimately successful. If your representative voted for the Amash Amendment, call and give them your thanks. If not, call to say you took note of their decision to vote in favor of unconstitutional surveillance, and hope they won't make the same mistake next time – if they're still in office to make it. Keep spreading the word about unconstitutional surveillance and those voting for it on Facebook, Twitter, and reddit.
But while calls and social media activism help, they fall far short of meeting with your Congressman face-to-face. Starting on August 5th, our representatives will return to their home districts for a full month. This is our chance to lobby them directly. They spend all year listening to corporate lobbyists and intelligence heads; now, they get to hear from us. This August, we take the fight to their doorsteps. 217 representatives are now on record as being just fine with unconstitutional surveillance. We'll tell them why that's just wrong.

Organizing a meeting is simple. If you're as bold as Restore the Fourth New York, you can just walk in and demand one. But formally organizing one is easy too: all you really need is a phone, a computer, and a bit of persistence. Attending a meeting is even easier. We only need to convince seven reps to tip the scale and consider it a victory, but if we convince many more, we can consider it a resounding success. Free Press has put together a tool that simplifies the process of organizing and recruiting for meetings. Join a meeting near you or schedule your own. Either way, take advantage of this rare slice of time to meet with your elected representatives and explain why this issue matters.
Just as face-to-face meetings with representatives are more effective than letters and phone calls, on-the-ground promotion is the most effective way to get more people to join, and media outlets to follow the issue. And that's what we need to do on 1984 Day on August 4th. When we protest unconstitutional surveillance, we must make sure the citizens that hear us also take advantage of this opportunity. Congress' summer recess starts the day after, and we must use 1984 Day to make sure all defenders of the Fourth Amendment know and take advantage of it.
Posted on July 24, 2013 in Uncategorized
Visit defundthensa.com to call Congress and our thunderclap page to spread the word.

A crucial vote is about to take place in the House of Representatives on a bipartisan amendment that would "block funding for NSA programs using Section 215 of the Patriot Act to mass collect the call records of innocent Americans." This is a major turning point in the battle for the Fourth Amendment and against unconstitutional surveillance, and we need to act fast and flood Congress with calls in support of the amendment.
Yesterday Congress received more than 60,000 calls and 100,000 emails in support of it, and those working on Capitol Hill tell us the pressure we're putting on is being noticed by lawmakers, the White House, and the NSA alike. Last night we learned that the vote has been delayed from early today to either this evening or Thursday, giving us an extra day to call Congress. We need to use this extra time to our advantage and make sure at least another 100,000 Americans speak out in favor of defunding NSA spying.
Blocking funding for these programs would be a huge policy change in favor of privacy and the Fourth Amendment. But even if the vote to amend the bill narrowly falls short, or the amended bill is vetoed, getting 200+ representatives to vote for the amendment would be a great momentum boost for our movement and a mortal wound against unconstitutional surveillance. Above all, we can't let this vote get defeated by a wide margin and let the NSA think they have nothing to be afraid of.
So we need to do two things today:
Visit defundthensa.com, set up by Demand Progress and Fight for the Future, and use it to call Congress and tell your representatives to vote to defund unconstitutional surveillance. Then urge your friends and family to do the same.
Visit the thunderclap and pledge to spread the word about this vote on social media.
This is in our hands, but we need to act fast, so let's go.
Posted on July 18, 2013 in Uncategorized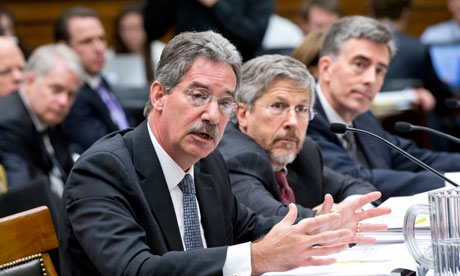 The tide is turning against the NSA's unconstitutional surveillance programs. Tuesday, a diverse group of political advocacy groups and other associations filed suit against the NSA for "violating their First Amendment right of association by illegally collecting their call records." Today, dozens of organizations including Apple, Facebook, Google, Microsoft, and reddit will release a letter demanding "dramatically increased transparency around U.S. government surveillance efforts." Two-thirds of Americans support public congressional hearings on these programs. Yesterday, the House Judiciary Committee began such hearings, which AP described with the headline "NSA spying under fire."
These organizations and the American people are right to fear the NSA's secret and unconstitutional collection of private information, the threat of which goes beyond the illegality and the ongoing violation of your privacy. For instance, Edward Snowden demonstrated that the NSA's internal safeguards are not effective at controlling their employees' or their contractors' access to information. Who knows what someone with different intentions but access to the same information might have done? Additionally, we're setting the precedent that it's OK for the government to violate our rights and privacy this way, and allowing our government to create more and more tools with which to do so. This brings us much closer to the wide-scale use of spying as a political tool, something oppressive governments have employed throughout history.
While yesterday's hearings were a step in the right direction for Congress, it was also revealed that the NSA can look at telephone and Internet data not only from a suspected terrorist, but from "everyone that suspect communicated with, and then from everyone those people communicated with, and then from everyone all of those people communicated with." As the momentum to challenge unconstitutional surveillance builds, the magnitude of the threat does as well. Both of these are strong reasons to increase efforts to spread awareness and pressure the government to take additional action.
George Orwell's novel 1984 is a chilling vision of what might lie ahead if we don't take action. While the technology used in the novel is different, the basic principles are the same. And while we may not live in a society like Orwell described this year, or next, that is only because of the vigilance we have shown in preventing it, and now that vigilance is needed as much as ever.
That's why we're calling August 4th "1984 Day." From marches in NYC and Los Angeles to speeches by policymakers and whistleblowers in San Francisco, Restore the Fourth chapters across the country will be observing 1984 Day to remind policymakers that 1984 is a warning, not an instruction manual, and to warn Americans what might happen if they let themselves believe national security requires disregarding privacy, individual rights, and the rule of law.
Just as our protests on July 4th got the attention of the NSA as well as that of national and international media, 1984 Day's events will serve as a reminder that our protests were not just a party. To capitalize on our great work two weeks ago, we must teach them that it was the start of a still-growing movement, one that will not stop until unconstitutional surveillance is ended. This will be Restore the Fourth's second set of simultaneous nationwide events, but instead of each city hosting a protest, this time different local chapters will be experimenting with a variety of event types, from rallies to speaking engagements to street theater and much more. While some already have something scheduled, most of the local organizers that put together July 4th's protests are convening now to decide what 1984 Day's events will be. Remember to subscribe to our newsletter and check out the national Facebook event page so that you receive updates on newly scheduled events, especially if there isn't one planned for your area yet. If you're interested in helping, e-mail organizing@restorethefourth.net and we'll either put you in contact with those already working on it or set you up to take the lead yourself.
It's 2013 and 1984 still hasn't quite come. By working together on August 4th, we can make sure it doesn't come in 2014 or any other year either.
Posted on July 10, 2013 in Legacy Content
On July 4th, tens of thousands of you came out to protest unconstitutional surveillance methods. There are many more protests and other actions upcoming (a bit more on that below), but as we've said many times, the next step is to let those in Washington who noticed us know this isn't over.
The way to do that is for all of us, including those who have already, to call our representatives and senators Friday to tell them it isn't over, and to make sure each of our friends do the same. One number you can use is 1-STOP-323-NSA (1-786-732-3672) – make sure you have your zip code ready. Those of us on Facebook can join the event page and make sure those on our friends list take notice of it.
You may be thinking: Why make a day-specific campaign out of calling Congress when it's been recommended all along? Concentrating calls from as many people as possible in one day will draw more attention from Congress and others than if those calls were more spread out. Additionally, it: will serve as a reminder to those who haven't called Congress yet; makes it easier to spread the message on social media and other venues; and will help keep attention on Restore the Fourth and on the issue of unconstitutional surveillance while we prepare for future protests and other action.
Tips for Friday
Call using call.stopwatching.us which will help you connect to the right office and provide talking points, and look up your local representative's position on unconstituional surveillance beforehand. Or consider using this script.
Read up on the issues (e.g. in our FAQ and Press Releases and other sites' guides) beforehand so you know what to say, and so that you can address friends that question you on why they should participate.
Considering sending a letter and email as well. There are some templates on our Resources Pages which you can use if necessary, and can edit at your own discretion.
On Friday afternoon ask your friends if they remembered to call. Many people will be willing to do it but will need a last-minute reminder.
And this isn't all that's being worked on.
Note on Restore the Fourth's Future Activities
Our last blog post laid out some of the projects the national and local organizers are discussing, including the one described above, so let's look at the others. While we put "political lobbying" and "legal action" as projects on our radar – and it's conceivable we'll find that to be a worthwhile project at some point – these aren't things Restore the Fourth will be working on in the coming months. We aren't prepared or funded for that level of action and it's best left to organizations like the ACLU and EFF. What we need to put on the agenda are the kind of low-cost, grassroots efforts to fight unconstitutional surveillance that we're best at, like those from the 4th. Here's two that are most likely going to happen:
Another set of local protests on August 4th, a few of which are already being planned by local organizers, using the 4th of the month as the go-to date for protests. August 4th's can also be a send off for…
A campaign to get Restore the Fourth participants and other critics of unconstitutional surveillance out to town hall meetings during Congress's summer recess. From August 5th to September 6th, members of Congress will be back home listening to constituents with the media present, and if we want to make it really clear this isn't over, we need to make unconstitutional surveillance the center of that discussion and the main thing on lawmakers' mind when they go back to D.C.
We hope you'll participate in both and that you'll remember to call Congress on Friday to tell them unconstitutional surveillance is unacceptable and that this isn't over!
Posted on July 6, 2013 in Legacy Content
On July 4th 2013, tens of thousands of you from over 50 cities across the United States came out to protest unconstitutional surveillance. What began as online discussions between anonymous strangers over the Internet became in less than a month a coordinated nationwide movement that turned the heads of the American people and their government alike.
But while a great number of people have called these protests a success, they are correct only if we use these protests as a launching pad for further action. Unconstitutional surveillance methods like the NSA's PRISM are still operating after the protests, as we knew they would be. We took a successful first step towards ending them, but now we must take the next one, which starts with studying the results of our work on the 4th so that we can capitalize on its successes and learn from its shortcomings.
On Turnout
We were pleased to find that approximately 20 000 protesters participated nationally and many cities (e.g. Boston, D.C., New York, San Francisco) reached close to 1000 – NYC, for instace, estimated 930-960. City-to-city, turnout varied from great to moderate to small. And it all made for some great photography.
The numbers might have and should have been larger, but any cynicism about the results would be misplaced. Most attempted protest movements fail to ever get tens of thousands of people, and most protest movements don't start out as large as they eventually become. And so we will make this one larger, and staging our first set of protests on Thursday helped us do that.
Saying "Mission Accomplished" and moving onto other things would be silly and naive, because PRISM and other unconstitutional surveillance programs still exist. What we accomplished was bringing a significant amount of extra attention to this scandal and to our cause, and put together a great amount of experience, resources, and contacts for future work so that we can bring even more attention to unconstitutional surveillance and eventually end it. Even the smallest protests brought local media attention to this issue.
Media Impact
Your protests this week brought major local, national, and international media attention to our movement and, more importantly, to the issue of the Fourth Amendment and the unconstitutional surveillance that violates it.
According to analytics ordered for us by reddit GM Erik Martin, Restore the Fourth was referenced eight times Thurdsay on major national TV and radio stations (Bloomberg Radio, The Call, CNBC World, CNN, CNN International, and Fox News; and NPR twice) and 259 times on local TV and radio stations.
The print and online publications that ran one or more articles on us inlude BBC, The Boston Globe, CBC, CBS, Cnet, CNN, Fox News, The Gazette, The Guardian, The Huffington Post, International Business Times, LA Times, Mashable, Politico, Reuters, Time, The Times of India, RT, SF Gate, The Wall Street Journal, Washington Post, Yahoo News, and Wikinews.
Other advocacy organizations that supported us with assistance or promotion or both include EFF, Fight for the Future, Internet Defense League, various Occupy Wall Street organizations (like these folks), PANDA, and stopwatching.us. (Surely I forgot some, so please email me to add you if I did). Politicians and celebrities that spoke out in suport include Rand Paul, Gary Johnson, Thomas Drake, and John Cusack. Support came from the left as well as the right as well as from every other direction and that is exactly what we wanted. Even the NSA itself found it suitable to take some notice and gave some support… for our first amendment rights. It's a start?
According to Google Trends, by late June news and search traffic for "Fourth Amendment" had declined to less than 20% of what it had been when the NSA/PRISM scandal first broke, but shot up to more than 80% on the 4th, most likely largely because of our protests.
What all this means is that we succeded, at least temporarily, in preventing the media cycle and the attention of the American people from moving away from the Fourth Amendment and the violations of it that were revealed a month ago. This is a critical first step, because the country's citizens can't take action to stop a scandal they've forgotten about, and we have established our movement with a cultural presence and larger base of support that we can build off of. We've made real progress, and that's something all of our participants should be really excited about, and proud of. But now we have to capitalize on that progress.
What comes next?
Restore the Fourth is a grassroots movement, and how we move forward is largely to be determined by what the various independent local organizers that conducted these protests want to do. So long as their work remains non-partisan, non-violent, and focused on ending unconstitutional surveillance, we will make it our job to provide them with the promotion and resources they need. Some are already beginning to plan their next event. Here are some of the interesting ideas for future projects that have been brought up by ourselves, local organizers, or the community:
– Planning, coordinating, and promoting future nationwide protests like those on July 4th.
– Planning, coordinating, and promoting a massive one-city protest in Washington D.C.
– Phone call, petitioning, and letter-writing campaigns directed towards both Congress and state governments.
– Exploring more local spheres of influence such as town hall meetings.
– Political lobbying in defense of the 4th Amendment.
– Legal action in defense of the 4th Amendment.
And here is some of what the Restore the Fourth national organization is spending the weekend doing:
– Working on bringing local organizers the level of direct involvement they should have had with the national organization a long time ago, and communicating with them about what we did right, what we did wrong, and what we should do next.
– Preparing additional information about who we are and how we function, for the benefit of both the public and our local organizers; much of this will be put on the website in stages in the coming days.
– Following up on all the talented people that offered to help us over the last week whom we didn't have time to give the attention they deserved.
– Keeping up contact with with social media communities in order to receive additional ideas and feedback on how to move forward.
– Preparing a press release to be issued Monday morning.
– Researching how we can become – and raising funds to become – a permanent, ongoing organization dedicated to defending the 4th amendment and America from unconstitutional surveillance.
Becoming such an organization is going to require at least a modest level of funding, which we're more than half way finished raising. So if you want to see such an organization be formed, please check out the indiegogo and consider helping out. I think the campaign lays out a pretty good case that we will use the funding effectively. Tell us what you think.
More information on the projects to be pursued throughout the summer will be made available over the upcoming week as we conference with local organizers. If you're interested in volunteering either locally or nationally or both, please email organizing@restorethefourth.net with the relevant info and we will set you up.
Thank you so much to everyone who contributed to our efforts so far. Please keep in touch and keep involved, because this isn't over.
Posted on July 4, 2013 in Legacy Content
Today the American people, the media, and even the NSA itself were made aware of our cause to end unconstitutional surveillance programs like the National Security Agency's PRISM. Now we must capitalize on that by moving on to Step 2, which is to let them know the next thing they need to be made aware of: This isn't over.
For now, please bookmark the site, join our mailing list, and maybe consider contributing to the indiegogo.
We know the indiegogo and the website need more details (e.g. our names, duh!), so feel free to bookmark it and hold off your decision on whether to contribute until Saturday when it will have way more concrete information and signs of trustworthiness. If you'd like to take a leap of
faith, though, go for it. We'll love you (even more).
Now the exhausted-but-still-working national Restore the Fourth team moves onto keeping up with our continued press contact, compiling and releasing photos/videos/information from the protests, talking to local organizers about how to move forward, and working with them on defining and promoting our future vision. So please keep in touch, because there is much more to come.
"Official" post-4th press release soon, Monday at the latest.
Thank you so much and keep up the good work everybody,
– Anna, Douglas and the rest of the Restore the Fourth National Organization
P.S. We are very sorry to those who have been in touch with us whose concerns we haven't been able to address yet, or whose proposals we haven't followed through on yet, especially our very very hardworking local organizers. Seriously, you all are the best. We truly care about the things that are being brought to our attention but we need a few more days to catch up on everything that isn't severely urgent.